H2 Limo Information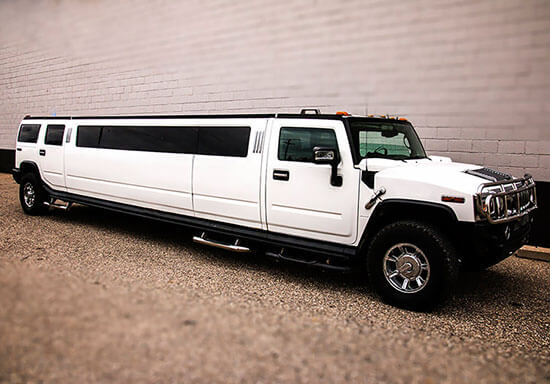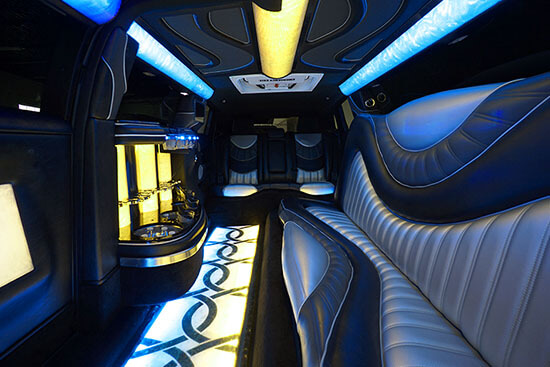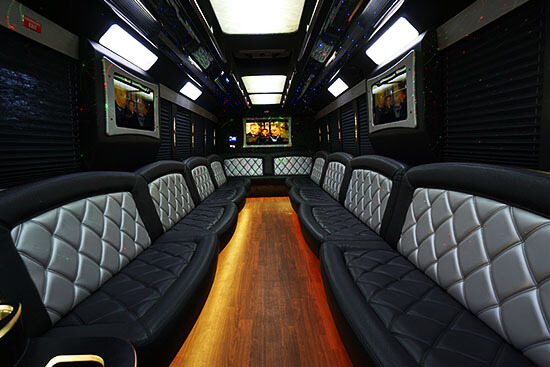 Welcome to Detroit Hummer Limo! We have an 18 passenger hummer H2 limo decked out with all the features you could want. It has a white body with not only rear doors but also a hidden third door in the front for easy access in and outside of the limo. The interior has both heat and air conditioning. It has a CD player with an MP3 player connector for your music. You can also listen to AM/FM or play a DVD. The DVD player goes across our sound system as well as our multiple flat screen TV's that we have in the vehicle.
If a hummer limo isn't your thing we also have several party buses that you can choose from. We have buses as small as 18 passenger and all the way up to 40 passenger and everywhere in between. All of our buses have features like multiple TV's, bar tops with built in coolers, stripper poles, leather perimeter seating, wood floors, loud sound system, DVD player, color changing led lights, and more. Give us a call today to get a free quote on our H2 Hummer limo or any other vehicle. If we don't have what you need we can always refer you to someone else that does.
Please take a few moments to browse through the features below and the pages that follow, which we have loaded up with lots of info for you. Our hummer limos page is the place to see the exciting interior photos and take a peek at the features that bring customers back to us time and time again. Our party buses page shows a bevy of our buses, both exterior and interior pics, and with all the features and number of passengers for each bus. It's the best place to choose the ideal vehicle for your upcoming trip!
Our pricing page is where you can find out how we bill out our rentals at the lowest prices possible. We've found that a lot of our customers like to know exactly how we calculate our prices, so in the interest of transparency and trust, we have laid it all out on that page for you. It's quite simple and it will also help you to plan out a trip that costs you a minimal amount if you're on a budget! The about page that follows gives you a bit of information on why we have the best customer service in Michigan, why our vehicles are so outstanding, and why our professional drivers are the ones that you can trust for your safety and fun!
Our events is a page where we tell you about our most popular outings, which happen to be bar/club hopping, weddings, school dances, and sporting events. Please note that those are just the beginning when it comes to the events that we can serve! Anywhere you're going, anything you're doing, we can take you there! Our FAQ page is quite intensive, crafted to capture all of the questions that we receive most often from our new customers when they call for the first time. We love to save you time and it's our hope that this page will save you plenty! It answers questions about features, drinking while on board, smoking, cleaning, fees, minimum rental requirements, overtime, and security deposits. If you're detail-oriented and like to know everything there is to know ahead of time, that's your go-to page!
Finally, we've also got a service area page that shows you the cities that we travel to most often. We're continually expanding to cover more and more of our state, so if you don't see your desired cities listed, don't hesitate to give us a call and double check. Chances are good that we can take you wherever you want to go! Finally, our contact page is the spot to grab our phone number and email address to get in touch with us to book your trip! We're so excited to work with you and make your exciting plans come to life on the road. Will we hear from you tonight? We hope so!
Hummer Limo Features
Flat screen TV's
Three access doors for the limos rear passenger area
Loud sound system with subwoofers and component sets
Acrylic bars with built in coolers for your drinks
Fiber optic lighting
Large chrome wheels
LED lighting
Custom leather perimeter seating and rear VIP section
Mirrored ceiling panel with color changing starlight
Built-in cup holders to secure your beverages
Wood flooring
Dark tinted Windows
We have been in business since 2008 and have outstanding customer service. You can rely on us to make sure your special event or wedding comes out perfect.
Our in house reservation specialist is there to answer your call with any questions you may have about our vehicles, pricing, or availibility 24/7 by calling 313-312-5466 any time. For outside of our area visit our friends at Hummer Limousine Rental and Chicago Hummer Limo Rental for the best service.
We take all major credit cards for payment as well as cash.